Both detox centers and rehabs promote addiction recovery, but they do so in different ways. One way to think about medical detox is that it addresses the past. It enables the body to safely remove the chemical toxins associated with past drug or alcohol abuse. Doing so allows them to overcome their physical dependence on alcohol or drugs. Although it isn't a cure for substance use disorders, it does help to prepare the mind and body for addiction treatment. Drug and alcohol rehab is more concerned with the future; its goal is to help individuals achieve lasting recovery by helping clients develop strategies for managing their drug or alcohol addiction. Both medically supervised detox and substance abuse rehab are important aspects of the addiction recovery process.
What is Medical Detox and What Can I Expect During My Stay?
During medical detox, clients are slowly and carefully weaned from drugs and alcohol. The process might take a week–sometimes longer depending on the type of drug(s) involved and how long the person has been addicted. Their own chemistry also plays a role in the time frame. Most people will experience withdrawal symptoms that tend to peak between 24 and 72 hours from their last use of the drug or alcohol. Medical treatment providers can provide medications and addiction treatments designed to reduce these symptoms. As the body becomes cleansed of the addictive substance, individuals will begin to feel less intense cravings to use it and will begin to obtain improved control of their behaviors.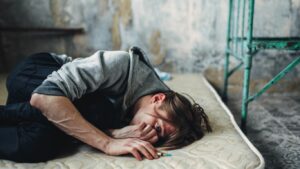 What Is Inpatient Rehab and How Does It Work?
During drug or alcohol rehab, clients focus on identifying the factors that triggered their substance abuse problem. They'll learn how to manage their triggers with new strategies learned in individual therapy and group therapy. Many addiction treatment centers also offer dual diagnosis treatment for clients who have an accompanying mental health condition such as depression or bipolar disorder. 
Today, the best treatment facilities feature a wide range of treatment programs offering different levels of care. These programs might include residential treatment, partial hospitalization treatment, intensive outpatient programs, and aftercare programming. Addiction treatments often include evidence-based treatments like cognitive behavioral therapy and dialectical behavior therapy. Alternative and holistic therapies such as music therapy, art therapy, family therapy, and yoga may also be included in treatment plans.
Does Addiction Recovery Require Professional Detox?
In many cases, medical detox is the best way to overcome the physical dependence associated with substance abuse disorders. Withdrawal symptoms can become severe, even triggering health emergencies like high blood pressure, heart irregularities, and seizures. At a detox center or alcohol and drug rehab, clients are treated so that withdrawal symptoms can be medically managed safely. In some cases, a person with a mild addiction might not experience severe withdrawal symptoms and prefer to detox at home. A person who has been hospitalized might have undergone detox as a patient. In most cases, medical detox is a crucial first step in the addiction recovery process.
Starting Addiction Recovery at TruPath
At TruPath addiction treatment centers, clients can undergo both clinically supervised detox and rehab treatment for drug and alcohol addiction. TruPath recovery centers offer a full continuum of care so that clients get the best level of support for their treatment needs. When enrolled at a TruPath treatment facility, clients can expect individualized treatment plans that include a wide range of therapies like cognitive behavioral therapy, motivational interviewing, anger management, experiential treatment, holistic treatments, and more. With treatment, clients can learn to manage their addiction to drugs and alcohol. When it comes to addiction treatment, medical detox, and rehab treatment programs aren't in competition; they both promote lasting recovery.