Two Options for Getting Better
Choosing to seek help for your alcohol addiction is a commendable choice to make that is the hardest part of your recovery journey. Now that you have overcome that initial step of deciding to get help, you have a choice to make about the right levels of care for your alcohol rehab program. When you are first exploring the different forms of alcohol rehab available, it is common for patients to have several questions about what each method of rehab has to offer toward their recovery journey. There are benefits to each form of alcohol rehab and it will depend on your specific circumstances with addiction and personal goals for addiction recovery that will enable you to choose the appropriate treatment method for you. Alcohol rehab is available in two different options either an inpatient rehab or an outpatient treatment program. Both options for addiction treatment will support you in healing from your alcohol addiction through evidence-based therapy methods. 
If you are wondering what the most effective and appropriate forms of alcohol rehab are for you, the following benefits and advantages below will offer you insight into the advantages of each method of rehab allowing you to make the best choice for you and your overarching goals for sobriety and healing. 
Who Would Benefit from Outpatient Alcohol Rehab?
Outpatient alcohol rehab offers a flexible option for treatment that is less intensive than an inpatient residential treatment program. Different levels of outpatient treatment are available that range in intensity and supervision levels. Patients can choose to participate in a partial hospitalization program (PHP) or an intensive outpatient program (IOP), Both forms of outpatient rehab will invite patients to attend the recovery center for individual and group therapy sessions that will focus on healing from the underlying causes of addiction and solidifying your skills for relapse prevention. 
Outpatient rehab is an ideal option for patients that are seeking a treatment program that will offer flexibility in schedules. While you are committed to getting help within an addiction treatment program, there are times that you may not have the ability to take a prolonged time away from your work or school commitments. For others, you may have children or pets that you need to make sure that their needs are begin met and have suitable supervision and care which can make going away for an extended period to attend addiction treatment a challenge. An outpatient rehab program enables you to make a treatment schedule that fits within your current responsibilities and attend the treatment center for addiction therapy while having the flexibility to return home each night to your loved ones and still can attend work. 
Outpatient rehab is often a beneficial stepping stone for patients that completed an inpatient rehab program and are seeking continued counseling and support as they navigate their new way of life in addiction recovery. After returning home, you will begin to apply the coping skills and lifestyle habits that you have learned within inpatient rehab. As you experience triggers or common ups and downs of life, you will have the opportunity to put to use the skills you have developed and can process the successes and challenges that you encountered with an addiction therapist. This process assists you in solidifying your ability to maintain long-term recovery. 
5 Advantages of Inpatient Alcohol Rehab
Inpatient rehab can be the best method of addiction treatment for several reasons for people preparing to embark on their recovery journey. Inpatient alcohol rehab offers the following advantages for patients: 
Safe, private environment to heal from alcohol addiction. Healing from addiction is a personal journey that you will want to have your privacy upheld. As you reside within the recovery center, you will be with a small number of other patients going through similar treatment processes, allowing you to feel comfortable and secure that your treatment program will remain private from others. 

An environment is free of outside triggers. The initial phase of your addiction recovery will bring forward several emotions and temptations as your body and mind are adjusting to functioning without the presence of alcohol. Often, this stage in your recovery process is accompanied by strong cravings for alcohol. While you are in an inpatient rehab program, you will be able to reside within a safe space that is free of alcohol and other environmental triggers that can be present within your community and home environment. 

Access to the onsite medical team. As you heal from the physical addiction to alcohol, you will be monitored by nurses and physicians within the recovery center. As you move through alcohol detox and treatment, the medical team will be able to ensure your overall health and safety. 

A structured daily schedule of addiction therapy will foster long-term sobriety. While you are in inpatient rehab, your days will consist of a routine of personal care, addiction therapy sessions, physical exercise, healthy meals for nutritional supplementation, and recreational or social activities. Establishing a healthy routine while in rehab, enables patients to not only heal from their addictive behaviors but support them in developing a new foundation for a lifestyle in recovery that will ease in their transition from rehab back to their home environment. 

Access to a full continuum of care. Patients can participate in an alcohol detox program that will allow them to rid their bodies of the harmful toxins of alcohol while safely overcoming physical dependence and withdrawal symptoms. While you are within the treatment center, patients will have access to participating in a medication-assisted treatment program that will support them in safely overcoming the harsh withdrawal symptoms while maintaining their overall safety and comfortability. Once you have completed a detox and rehab program, the team within the addiction treatment center will support you in establishing an aftercare plan that will support you in maintaining long-term recovery. 
Is Detox Necessary Before Alcohol Rehab?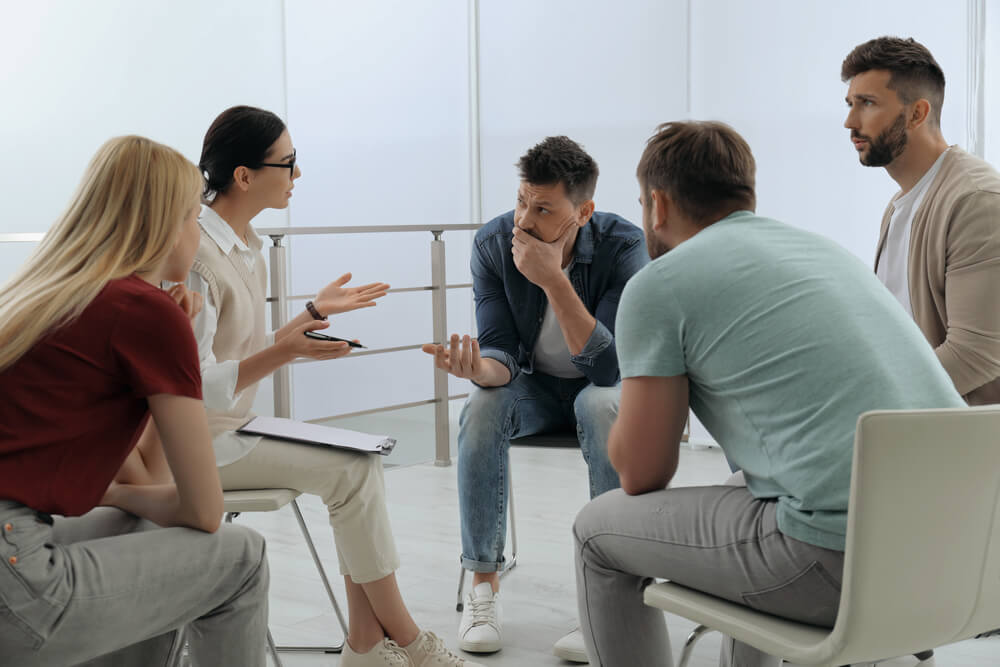 Alcohol is a powerful substance that can create strong physical dependency within its abusers. Depending on the severity of your alcohol addiction, you have the potential of experiencing serious, sometimes life-threatening, withdrawal symptoms. Each person will have their own experiences with alcohol detox. A detox program is a key step in your recovery process that will assist you in your early addiction recovery process.  An alcohol detox program will provide you with the comfort of knowing that your health and well-being are monitored throughout your withdrawal process. The medical team within a detox program will provide you with top-tier detox treatments and practices that will support you in stabilizing your physical and psychological health while setting you up for success in healing from the root causes of your alcohol addiction through evidence-based therapy methods. 
TruPath is Ready to Help with Alcohol Rehab Today
Living with an alcohol addiction does not have to be a life sentence. You have what it takes to overcome your addiction, sometimes all you need is some guidance and support to get you on the right path for treatment and healing. At TruPath, we provide patients with a comprehensive treatment program that will be catered to meet their unique circumstances and overarching goals for addiction recovery.  Our varying levels of alcohol rehab will be able to meet the needs of any person, allowing you to get the help you are seeking to successfully heal from the impacts of alcohol addiction. Call our compassionate team (888) 292- 1933 to hear more about our individualized treatment plans and begin your road to recovery today so that you can embrace a lifestyle in sobriety today.