Can You Make Someone Go to Rehab?
Do you know someone that is suffering from a drug or alcohol addiction? Addiction is something that impacts more than just the person that is struggling with this disease. Family and friends of that individual can also be impacted as a result of addiction and abuse. However, the question or whether you can encourage a friend or family member to engage in one of the recovery programs at a treatment center. It's important to remember although there are several things that you can do to encourage a friend or family member to commit to alcohol treatment or drug addiction treatment, you can never force someone to get on the road to recovery. 
Getting Someone You Love into Drug Rehab: Steps to Take
If you think that a loved one is ready to commit to a treatment plan at an addiction recovery center, one of the best things that you can do is to try to convince them gently. One of the biggest mistakes that family and friends often make when it comes to getting someone into a substance use disorder program is to try to force them into doing something that they are simply not ready to do. When a person is suffering from the ramifications of addiction and abuse, it may be challenging to try to break through the wall that a crack cocaine or marijuana addiction causes. The reality is that addiction affects the practical sense because it's a disease. Keep in mind that our treatment team can help you to stage an intervention for the drug or alcohol addiction of your loved one so that you can help them get back on the road to recovery.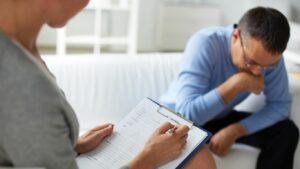 TruPath Recovery Offers Drug Addiction Treatment and Support for Family Members
At TruPath, we offer a wide range of treatment programs that will help you to work through your substance abuse issues. We have worked with people all over the country to address their drug abuse or alcohol addiction issues. We not only offer addiction treatment programs but we also offer detox programs that can help you on your journey toward addiction recovery. On average, a drug or alcohol detox program is something that usually lasts approximately seven days. Depending on the severity of your drug or alcohol addiction, you may experience withdrawal symptoms within just a few hours from the time that you stop consuming your substance of choice. These withdrawal symptoms can make it impossible for you to care for yourself which is why you should always start with a detox program. 
Following detox, you will be in a better place both physically and psychologically to be able to commit to an addiction treatment program. One of the reasons why so many people trust TruPath with their addiction care is due to the fact that we offer individualized treatment programs to suit your needs. Regardless of whether you commit to an inpatient or an outpatient program, you can rest assured that you will receive the attention that you need during this stage of your recovery. 
In both treatment options, you will participate in different forms of addiction therapy. These therapeutic treatments will help you to determine the root cause of your substance abuse and help you to recover from these traumas which will aid in your overall relapse prevention.  
If you would like to learn more about the steps that you can take to encourage your loved one to get into addiction treatment, please reach out to us. Our intake team is available around the clock to provide you with the answers to the questions that you have regarding addiction and recovery.